Dear Friend,
I can't emphasize enough the power that community has for your career, profession or business. It's what connects, empowers, and develops us. Community is what keeps us accountable and grounds us. As a woman professional, speaker or entrepreneur you are committed to excellence in all that you do. You know that support and community pays a huge part in your success. Most importantly, it opens doors that we never could have imagined. So what's your community? Mine is the Women Speakers Association, a global network of women in over 120 countries across six continents.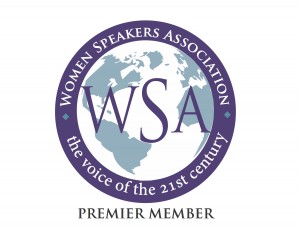 As a Premier Member of the Women's Speaker Association, I can attest that I've received benefits that have helped me to grow personally and professionally. The resources were invaluable as I begun my speaking, training, coaching and consulting business a few months ago. It can be overwhelming when you start a new business and the Women Speakers Association has resources that can help.
To join as an Associate Member today it is FREE! Join today and learn about the valuable resources.
Click here to join FREE as an associate member:
Free Associate Level – Women Speakers Association Membership
If you choose to later upgrade as a Premier member you will have access to the following which will help grow your business. The Premium Member level benefits are:
Online Member Directory
Global Industry Calendar
Weekly Twitter SpeakerChats
Collaborative Live Events
Exclusive Members-Only Gifts
Discounts & Much More
Your Premier Membership will more than pay for itself as you generate more leads, land more speaking gigs, boost your visibility and credibility, and sell more products and services.
Register for this amazing community through the link below. Remember that your associate membership is FREE!
Free Associate Level – Women Speakers Association Membership
If you would like more information please feel free to reach out at deborah@deborahangelaustin.com
I wish you continued success!
Deborah
——————–
Deborah Austin, DTM
Speaker – Writer – Trainer
Coach & Consultant
deborah@deborahangelaustin.com
www.deborahangelaustin.com