Dear Friend,
I hope all is well. It's Deborah Austin here and I'm sharing information about a remarkable program with you. The Speak to Sell Virtual Bootcamp by Lisa Sasevich can help you package and monetize your expertise. As a heart-centered expert, professional or entrepreneur, I know that you have a dream in your heart to build a business or get your expertise known where you deeply serve people with your talents. You want to be able to make a difference in the world while making your passion profitable.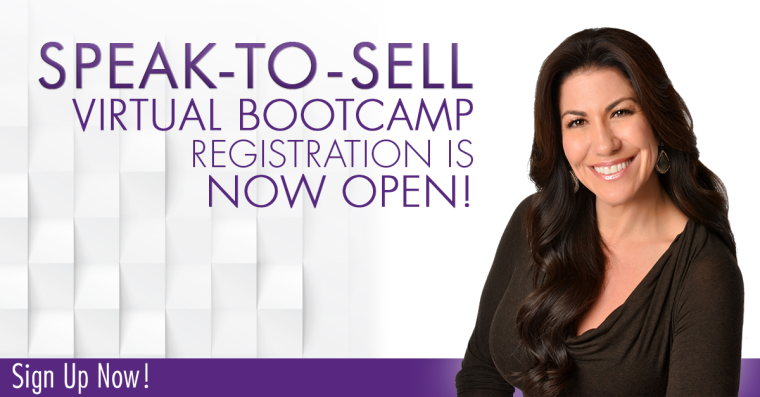 Many people are "the best kept secret" as they don't know where to begin to get their brilliance out into the world. If you're like a lot of heart-centered entrepreneurs, professionals and experts, there may be a secret desire you're still holding on to that if you keep doing awesome work, eventually someone will come along and "discover" you. The problem is that the odds are against you. So what happens is people let their dreams languish…..and even die. Some people give up on their dreams entirely and continue to live a mediocre life that they are not passionate about. I don't want this to happen to you! The Speak to Sell Program is THE program that helped me to jump start my entrepreneurial journey teaching me how to package and monetize my expertise. I am starting to fulfill my dreams. What about you?
Pre-Register for the Speak-to-Sell Virtual Bootcamp to be Ready When it Opens Once Again!

The Speak to Sell Virtual Bootcamp is Open
The Speak to Sell program is helping me to connect with my ideal clients and obtain speaking engagements. I started as an entrepreneur from the ground up without a business background. My Honours BA university degree is in International Relations and the majority of my professional experience is in the public service. Now as a transformation expert, my mission is helping people develop powerful communication and leadership skills so that they can have the success that they deserve!
I believe strongly in this program because it kick started my success journey that I'm sharing the benefits with you. Have you been waiting for years to step up and get started! Who are you waiting for permission or approval from to release your brilliance, serve people deeply and make a difference in the world. Start building your business today with the Speak to Sell Virtual Bootcamp Program.
Get Your Brilliance Out Into The World Now! You can Pre-Register below for updates once the program launches again:
Get Your Expertise and Brilliance Out Into The World!

Lisa Sasevich, the Queen of Sales Conversion is a world renowned sales expert, famous for her Speak to Sell Virtual Bootcamp Program. Through her programs, she has been helping people for years to package and monetize their expertise and has thousands of successful clients worldwide.
Stay tuned for the Speak to Sell Registration When it Opens for a Limited Time!
Speak to Sell Virtual Bootcamp Registration is Open for a Limited Time!

But here's some great news. You don't have to wait anymore to be discovered! When you decide to crown yourself and assume the throne as the expert and industry leader that you were meant to be, everything changes. And if that makes sense to you and you're ready to step up and assume the throne, this last video from Lisa Sasevich's brand new training series will show you the exact steps to start now. In this video, Lisa is also opening up registration into her Speak-to-Sell Virtual Bootcamp. This is her highly sought-after training where she holds your hand as you craft an offer that is truly irresistible to your ideal clients and then a presentation, or what she calls a Speak-to-Sell Signature Talk, that leads seamlessly to your offer.
When you invest in the program and use my registration link (send me the confirmation) as a special bonus, I will be offering you a special executive level coaching package that will compliment your Speak to Sell Talk. Having been through the program myself and used it successfully to acquire clients and obtain speaking engagements, I have a unique perspective that can help you. My expertise is helping people become powerful speakers. I've coached people from various backgrounds including: MBAs, PhDs, entrepreneurs, small business owners and professionals. Let's together ensure that this year is your breakthrough and breakout year! Learn to Speak to Sell with Lisa Sasevich and Deborah Austin!
Wishing you infinite success!
Deborah
——————————
Deborah Austin, DTM
Speaker – Writer – Trainer
Coach & Consultant
Tel: 416-546-3390
deborah@deborahangelaustin.com
www.deborahangelaustin.com